Lust Worthy - Temporary Tattoos
July 13, 2013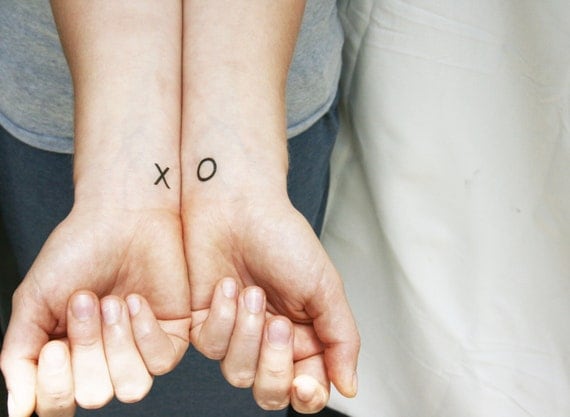 You may be wondering, is this girl like 8 years old? But, no, I'm 20 and happen to think fake tattoos were and continue to be
the coolest
. I'm one of those people who constantly need change. Couple that with a habit of being indecisive and you'll understand why I haven't committed to a
real
tattoo. I've never really grown aspiring to have one, but that more I grow and change, the more I see the possibility and the beauty there.
I have such an appreciation for well done tattoos - small ones, meaningful ones, big ones, intricate ones, simple ones. You name it. So, for the past few months I've been thinking about what I would get if I ever decided to get a tattoo. I've been thinking about getting a triangle, which is so exceptionally representative of multiple facets of my life and in addition, will satiate my love of simplicity, geometry, and design.
But before I go running off to get inked up, I thought I might like to see what having a triangle tattoo on my body felt like. Also, experimenting with placement could never hurt a gal like me. Enter the totally rad solution of temporary tattoos. I'm loving
this set
in particular.
As I began searching for temporary tattoos I found some lovely little gems. So here are a few links to totally lust worthy temporary tats:
Spirit Ink Shop
-
Chevron
,
Hipster Collection
,
Big Dipper
,
Paper Plane
Pepper Ink
-
Vintage Floral Pack
,
Ampersands
,
Anatomical Heart
,
Geometric Sugar Skull w/ Floral Crown
Tattify
-
Wild Hearts Can't Be Tamed
,
Antlers
,
Anchors
,
Line Animals
,
'Strength'
Tattly
-
Happy Hour
,
Names Crossed Out
,
Color Burst
,
Make it Happen
,
Camera
,
'Smitten'
,
Diamonds
,
Makers Gonna Make
,
Basically anything typographic
Burrowing Home Shop
-
Fox and Squirrel
,
Deer and Bees
,
Feathers and Rabbit
,
Skull and Snake
,
So, what do you think? Would you ever rock a temporary tattoo?
P.S. - this is my 400th blog post! HOORAY!